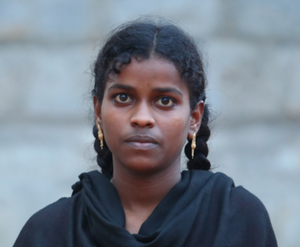 *Vocational Scholarship gifts recur once a month

 

for

 

12 months. At that point, you will

 

have

 

fully funded your student's training!*
Rama's father passed away when she was very little. Her illiterate mother did not have the skills to earn money on her own. Occasionally, Rama's mom found work, but the debts mounted and the people she owed started threatening to take legal action. Then Rama's mother did the unexpected. At 7 years old, her mother sold her to a human trafficker. 
Rama was taken to a rock quarry. On her first day, she saw other children brutally beaten. At night, she slept under a scrap of plastic tarp with a few other girls. She spent two years hoping for this existence to end. Unknown to her, a field team had been watching this quarry for sometime hoping to make a rescue. 
At night, some teenage boys, themselves rescued from another quarry, and old anti-traffickers cut the barbed wire and lowered ladders into the pit below. Rama and a dozen other kids were rescued that night.
Initially, she was very scared of all the adults, but soon she warmed up to the house mothers and female teachers. Over the past 5 years, she has caught up to her proper place in school, and she hopes to become a seamstress. Her training costs $1600 (donate the full amount here) or $133 a month for 12 months.
This training will equip her to take a job at a clothing factory where she can earn a good living. If she follows in the steps of most other graduates, she will support the children's home so that other kids can know freedom. 
*These children's names have been changed to protect their identities.*