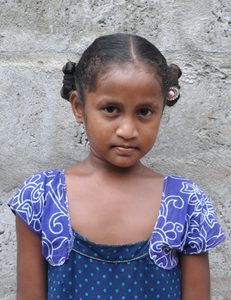 Mounika was born into a poor sharecropper's family in a rural part of Southern Asia. Floods destroyed their home and carried away all of their belongings. At five years old, she was sold so that the family could rebuild their home. In the quarry, Mounika was forced to carry rocks in baskets and crush stones with a hammer. She was barely fed, and by the time she was rescued in 2019, she was extremely malnourished and anemic. 
Today, Mounika has been restored to full health, and she is learning to read. At seven years old, she has made friends for the first time, and they enjoy playing board games together and doing each other's hair. She dreams of working as a nurse.
When you sponsor Mounika, you take care of her needs for food and education. You'll get updates from time to time about how you've made a difference and learn about the significant things happening in her life.  
When you do what you can 

For One

, you help end child slavery for good.
Dozens of other children are waiting to be connected with a sponsor.
See their stories.
*The name used is a pseudonym to protect this child's identity.