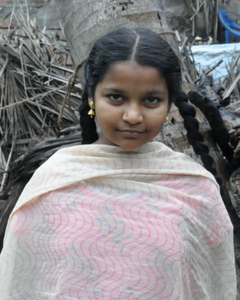 Lily's brothers both had illnesses that required expensive medical tests. Her parents sent her to work in a rock quarry not knowing she'd never be let out. Life in the rock quarry was a terrible combination of exhausting work and sexual and physical abuse. She was told repeatedly that if she fought back, she would be killed. In the Spring of 2020, Lily was rescued by one of our field teams and taken to a safe house to get good food and begin counseling.
Today, Lily lives at The CFC Children's Home and has dozens of friends her own age. She is attending school where she particularly loves science. In her spare time, she loves to sing, and she enjoys reading the newspaper so she can learn about the wider world. Someday, Lily hopes to either sing professionally or become an advocate for children. 
When you sponsor Lily, you take care of her needs for food and education. You'll get updates from time to time about how you've made a difference and learn about the significant things happening in her life.  
When you do what you can

For One

, you help end child slavery for good.
Dozens of other children are waiting to be connected with a sponsor.
See their stories.
*The name used is a pseudonym to protect this child's identity.