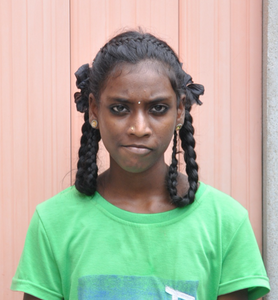 Kardhala was born to a poor family in a remote village and her father abandoned the family when she was little. Her mother worked hard to provide, but when she was injured operating farming equipment, it became Kardhala's turn to provide for the small family.  When she was promised good food and wages, she went to work in the rock quarry. When Kardhala arrived in the quarry, she soon realized both the food and the wages were lies. She was a slave. 
Kardhala was eventually rescued by a team of local abolitionists, and she came to live at The CFC Children's Home. Today, she is attending school for the first time and is excited to learn how to sew and design clothing so she can provide for herself. She has hopes to reunite with her family and help provide for them long-term.
When you sponsor Kardhala, you take care of her needs for food and education. You'll get updates from time to time about how you've made a difference and learn about the significant things happening in her life.  
When you do what you can 

For One

, you help end child slavery for good.
Dozens of other children are waiting to be connected with a sponsor.
See their stories.
*The name used is a pseudonym to protect this child's identity.